---

---
Full Service Booking - Personal Trips
African adventure at its best!
Lower Zambezi National Park -  at just over 4000 square kilometres, the Lower Zambezi National Park stretches in a narrow swathe from the Chongwe river in the west to the Luangwa river in the east.
Rich in biodiversity, there are a number of biomes, or eco-systems in the park, ranging from montane thickets on the slopes of the escarpment to miombo woodlands, grassy floodplains and riparian forests. Like the adjacent Chiawa Partnership Park, the Lower Zambezi National Park is home to all of the major species in the valley with excellent sightings of elephant, buffalo, lion and leopard a regular occurence. Birdlife in the area is also outstanding, making this a real hotspot for ornithologists.  
Chongwe River Camp offers a range of game activities in the park including full-day pinic trips, canoeing and fishing excursions. 
The tents are light, airy and spacious with either a single king-sized or two single beds. Each of Chongwe River Camp's nine standard tents is equipped with enough luxuries to ensure your stay in the bush is exceptional. 
Cotton linens, local textiles and hand-crafted furniture blend seamlessly with organic fittings and fixtures, all designed to make the most of what Mother Nature has provided, including the incredible views. 
All of the tents are under thatch, ensuring maximum coolness in the heat of the day. Each has a large 'outdoor' bathroom with hot and cold running water, shower, toilet, vanity unit and dressing area with a wardrobe and full-length mirror.
The tents also have their own private verandas overlooking the river, making them an ideal place for relaxation and contemplation of Africa's wonderful wilderness.
There are private suites available on request for families or private couples. 

 

There is a large open sandy area on which the braai pit and dining areas lie.

There is an undercover bar and seating area for use during the rainy season. 

A full choice of breakfasts is available from 5.30am onwards and your guide will be waiting for you once you are finished. 

There is a pool for guests to use and wi-fi is available in the bar area.
When it comes to fishing, Chongwe is tiger country!
The Lower Zambezi is home to the tiger fish, nicknamed the "water dog," whose sharp teeth are matched only by its fighting spirit and reputation as one of the world's top game fish.  At Chongwe River Camp we offer our guests the chance to head out onto the river in search of this formidable combatant, operating a strict catch-and-release policy in order to preserve stocks of this incredible fish. 
Alternatively, you can try your hand at bream fishing on the Chongwe river itself, where a limited catch can be brought back to camp and served up with a delicious lemon butter sauce! 
Fishing can be combined with game activities and all equipment is provided, with both conventional tackle and entry level fly rods available. We recommend serious fly fisherman should bring their own tackle. Please contact us for specifications and recommendations.
Each boat has its own guide and will always have a cooler box stocked with cold drinks. Boats normally leave the lodge around 5.30-6.00am, but you can arrange specific times with your guide to suit your needs. The hottest hours of the day are between midday and 2.00-3.00pm so anglers are encouraged to rest at the time, especially during the sweltering months of September and October. Boats will leave again from 3pm onwards and stay on the water until sun down. 
Anglers will also be a fishing game drive. You will set out with your guide on a safari vehicle loaded with your tackle and head up the Chongwe River. The Camp has exclusive rights to Bream fishing on the river and apart from the Elephants behind in the bush you will have the spot to yourselves. The guides will bring bait for you and all one needs to do is sit or stand on the banks and cast out in front, into pools heavily stocked full of Bream. 
Enjoy a sun down drink with your rod in Head back to camp via the notorious 'Leopard spotting tree' and hope to catch a glimpse of the spectacular cat. Return to camp.
In a National Park, wildlife is in abundance. Most nights you will hear hippos walking around your tents, with a lions roar in the background. Please do not leave your tent after dark! All tents are fitted with walkie-talkies in case of an animal related emergency. Birds and many types of antelope are always wandering in and out of camp but one of  the main attractions has to the be the Elephants drinking from the river right outside your tent in the morning.
A policy of non-intrusive enjoyment of wildlife and low environmental impact has helped to make the Lower Zambezi valley one of southern Africa's premier game viewing destinations. Add to this the amazing fauna and flora found in and on the banks of Africa's fourth largest river, and you begin to understand why this amazing wilderness is so special. 
At Chongwe River Camp, activities are tailored to make the most of this incredibly diverse wilderness. Game viewing can be done from a vehicle in either the Lower Zambezi National Park or the Chiawa Partnership Park or, if you prefer, from a boat on the Zambezi. 
Canoeing, walking are also offered. For those interested in the rich cultural heritage of the area, community visits can be arranged.
Destination: The Chongwe River
Area: Just outside the Lower Zambezi National Park, on the confluence of the Chongwe/Zambezi Rivers
Country: Zambia
Season:  April to mid November
Trip Type: Tented suites on the Chongwe River, a tributary of the Zambezi
Description: Fish in style on the Zambesi
Approx Cost: starts from USD 695 per person / per night
Species: 
Tigerfish ~ Tilapia ~ Bream ~ Catfish, known as 'Vundu' to the locals 
LOW SEASON: April, Mai, June and 1st-15th November
MID SEASON: July and October
HIGH SEASON: August to September
LOW SEASON: MAY, JUNE & 1st– 15th NOV 
USD 550 per person per night or USD 3,300 for 6 nights and 5 days
MID SEASON: JULY AND OCTOBER
Sharing USD 650 per person per night or USD 3,900 for 6 nights and 5 days
Single USD 850 per person per night or USD 5,100 for 6 nights and 5 days
HIGH SEASON: AUGUST AND SEPTEMBER
Sharing USD 700 per person per night or USD 4,200 for 6 nights and 5 days
Single USD 900 per person per night or USD 5,400 for 6 nights and 5 days
Included: Accommodation, Activities, Laundry, House Wines, Local Transfers, Meals, National Park Fees and Community Development Levy. 

Not included: International airfares to and Lusaka Airport and Royal Airstrip, tipping, passports, visas, meals other than in camp, costs associated with medical advice and medications for your trip, lures, fishing tackle etc.

                                                                               

 
 5% discount
Day 1: Flights usually arrive into the airstrip at approx. 2pm and from here it is a 10-15 minute drive to the lodge. Arrive and met by lodge manager who will give you an introduction to the lodge and show you to your rooms. You can opt to relax for the rest of the day, or head straight out onto the water with your private guide and boat.

Day 2: Fishing every day, starting from 5.30/6am each morning. Arrange times with your private guides throughout the day and choose which parts of the river you wish to fish. Activities are included in your stay and you can choose at any time to have a break from fishing and join a game drive, go canoeing or take your boat for a game cruise on the river until sun down.

Final Day: Depart lodge in the morning by jeep to the airstrip, where you will board a small plane back to Lusaka.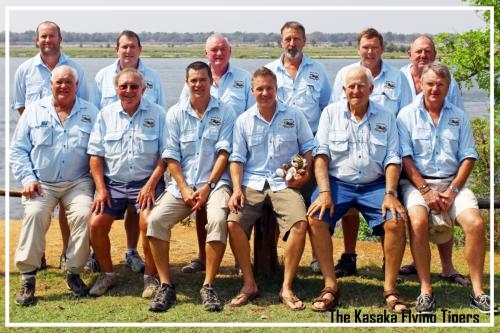 We help you to plan your trip - just contact us! We appreciate to help you to make your dreams about a real adventure trip come true.
WORLDWIDE FISHING ADVENTURES LIMITED
Suite 205A
Saffrey Squarem Bank Lane & Bay Street
P.O. Box N-4244, Nassau, Bahamas

---