---

---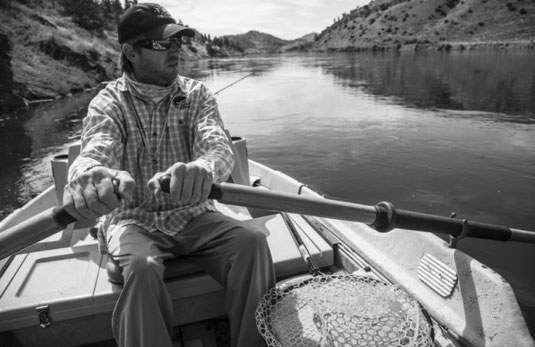 First Cast Outfitters is located in the heart of the best fly fishing on the planet.
Montana is considered "the Mecca" of fly fishing. With world class Montana fly fishing waters in every direction, First Cast Outfitters are perfectly poised to offer any variety of angling experience. Whether stalking trophy trout or fly fishing for northern pike, First Cast Outfitters can ensure your Montana fly fishing experience is top notch.

Captain Jeff Johnson
My love of fishing began at an early age. Growing up along the banks of the Yakima River, in Central Washington, it became pretty obvious that fishing was in my blood. In 1997 I moved to Bozeman, MT to attend college a little and fish a lot. This is where I really began to hone my skills, eventually trout bumming for entire summers on the Missouri and other area rivers. After an 8 year stint chasing steelhead up and down the coastal rivers of the Northwest, I have returned home to the rivers I love and First Cast Outfitters is born.
First Cast Outfitters hires only the best and most professional guides. Our guide staff all boasts many years of fly fishing and guiding experience and are able to teach anglers of any ability new skills. Whether it be rods and reels, flies, casting instruction or even insect education, our guides will have you taken care of.
When I am not in Montana guiding for trout, you can find me during the cooler months on the Gulf Coast guiding for redfish, sea trout, tarpon and jacks in Rockport, TX.
Home Waters
First Cast Outfitters guides on many of the waters in Montana, for a variety of species. But our home water will always be the Missouri River. We call Craig, MT "Home" for most of our summer months. With large, technical trout, feeding on excellent hatches, there is truly no place we would rather be.
While First Cast Outfitters may call the Missouri River home, we also fish a number of other waters in Montana. We regularly spend a considerable amount of time at the Land of Giants, Blackfoot River, and running Montana Pike trips. Whether you prefer to sight fish for technical feeding trout or work on newer fly fishing skills, First Cast Outfitters can craft the perfect Montana Fly Fishing trip for you.
Missouri River
The Missouri is truly a remarkable fishery. Boasting the highest trout population in the state, over 8,000 fish per mile, and the largest average fish size, around 17″, it offers anglers an experience that they will not find anywhere else. Fish here grow fast and STRONG! It's not uncommon to have an "average" fish send an angler deep into his backing.
We have 40 miles of amazing tail water fishing at our fingertips on the Mo. This allows us to float multiple stretches of river and give anglers a different look at our water each and every day. Techniques can vary from day to day as well. Nymphing is always a great option for beginners or any angler, or perhaps a streamer on the cloudier days. But the dry fly fishing is second to none.
Prolific hatches of Midges, PMD's, Caddis, Baetis and of course Tricos poor off the river each year. Pods of rising trout can be seen in every stretch of the river. The experienced angler will certainly get to test his skills. A precision cast, soft presentation and perfect DRAG FREE drift are required to fool these trout.
Special Stay and Fish packages are offered for the Missouri. Lodging can be very hard to come by during the busy summer months. So plan ahead and contact us for help in planning your Missouri River fishing vacation.

Land of Giants
Running between the Hauser Dam and Gates of the Mountains on Holter Lake, is a stretch of the Missouri that has earned the name, Land of Giants or L.O.G., and rightfully so. Plain and simple, there are big fish here. Lots of them.
The fish in this stretch, comprised mostly of rainbows and a few browns, move into the lake for part of the year and then back up into the river.  Because of this, they tend to grow a bit larger than the average fish we see below Holter Dam on the lower Missouri River. The average rainbow can be around 22″, with the ever elusive browns being even larger.
Captain Jeff Johnson accesses L.O.G. by jetboat, launching at the Gates of the Mountains, about 30 minutes from Craig, Montana and running upstream. This run across the lake and to our fishing location can take up to 30 minutes.
5 and 6 wt rods are still the preference here, as these fish eat very similarly to those in other stretches of the Missouri. While dry fly and streamer fishing can be quite good at L.O.G., we primarily take fish below the surface with a variety of different nymph patterns.
Dearborn River
Originating in the Scapegoat Wilderness high in the Lewis and Clark Range of the Rocky Mountains, the Dearborn is a relatively unknown river when compared with nearby waters such as the Missouri, Blackfoot, or Yellowstone Rivers. This is arguably the most scenic river in Montana. And certainly one of the less crowded.
We are only able to float this river during a brief run-off window, usually occurring in May and June. After this, the water levels are too low to navigate with a raft, leaving only limited wade fishing access. The most popular section of this river will take you on a 19 mile float from the Highway 287 bridge, through a magnificent canyon, before its confluence with the Missouri River downstream of  Craig, Montana. It is not uncommon to launch your raft in the morning, and not see another person until the confluence.
Fishing can be good to great on the Dearborn, depending on run-off conditions, weather and water clarity. A healthy population of cutthroat, rainbow and brown trout call this river home. Attractor dries and droppers, or perhaps a streamer are the common methods here.
Blackfoot River
The Blackfoot River is, truly, classic trout water. Winding its way 146 miles, before its confluence with the Clark Fork River near Missoula, you will find endless deep pools, riffles, shelves, undercut banks and pocket water. The Blackfoot is every bit fishy as it is scenic. With good numbers of rainbows, browns, west slope cutthroat, brook trout and bull trout.
Fishing can be good on this river in the spring as early as April, with streamers and nymphs. Strong hatches all summer long will provide plenty of opportunities to throw attractor patterns or other dry flies. Then we like to go to larger streamers in the fall, looking for hungry brown trout.
Just a short drive from Craig, MT, the Blackfoot provides an excellent option for those Missouri River anglers that may not be familiar with the techniques of fishing a freestone. It can also provide slightly less technical dry fly fishing, for beginning to novice angler.

Carp on the Fly
For those looking for a slightly different challenge while fishing the Missouri River, we suggest you test your skills and casting precision on our carp. This fish is becoming increasingly popular to fly anglers, as it presents a challenge most similar to that of fishing to tailing redfish or bonefish in the salt water. These carp can feed much the same way, and average around 10 pounds.
First Cast Outfitters will take you to some of our favorite water to search for these powerful fish. Some trips are run by drift boat on the stretch of the Missouri below Toston dam, while others we might find ourselves in the jet boat searching sandy flats on Holter Lake. This fishing is all done by sight. You will see each fish, before you make your first cast. Accurate casting, delicate presentations and a proper strip set will reward the angler with a fight consisting of multiple runs into the backing.
Carp fishing is best in the heat of the summer. July and August our typically our best months. A 7 wt rod, floating line and long leaders are the perfect choice for these wary fish.
Montana Pike Fishing
Have you ever heard someone use the word VORACIOUS? It is a word usually used to describe something that is really hungry and ready to eat anything in sight. It's also a pretty good way to describe the Northern Pike found in many of our Montana waterways. The northern pike is a fish that always seems to be in a voracious mood and willing to eat large flies presented to them.
Spring and Fall are the primary windows for great pike action. These times of year, the pike are feeding heavily and lurking in shallow water to ambush their prey. This is primarily a sight fishing game, as you will see almost every eat. Our pike range from 6-20 pounds and can reach upwards of 40″ long. We throw 8-10wt rods with 8″-14″ flies at these monsters. Often, in the Spring, we use topwater flies as well. The follows are intense, and eats heart stopping.
Destinations for pike trips can vary depending on conditions, but most are in Northern Montana. Contact us for help planning your trip so we can help suggest best methods for travel, lodging and any other information you may need.

Missouri River Stay and Fish Packages
First Cast Outfitters is proud to be able to offer all inclusive fishing packages for the Missouri River. We have partnered with the Missouri River Ranch, the only luxury lodging option on the Missouri River. Enjoy luxurious accommodations, fine dining and of course epic fishing, all in one place. These stay and fish packages can be customized to meet any length of stay desired.
Loding & Guiding Rates available for:
2 Nights stay / 1 Day guiding  for USD 800 up to 6 Nights stay / 5 Days guiding for USD 2890 
 FFTC Voucher available - 75 USD off for FFTC Members / fisherman / booking lodging services
The Missouri River Ranch
Relaxation, outdoor adventure, luxury accommodations, and gourmet meals are all part of the experience at the Missouri River Ranch, a private lodge located just south of Craig, Montana, on the banks of the Missouri River.
Set among 160 acres of wildflowers and meadows, with big and open landscapes, and boasting over a mile of private year-round fly fishing access, the Missouri River Ranch offers couples, friends, families and small corporate groups the opportunity to 'get away from it all' without sacrificing comfort or amenities. Formerly known as the "Flyway Ranch," new owners Chip and Sue Anderson have expanded the lodge and upgraded the amenities while continuing the tradition of providing warm hospitality and attentive personal service in a setting that's classic Montana. The Missouri River Ranch now has additional lodging capacity due to the construction of a new 4 room lodge known as the "Loafing Shed", revamped the orginial lodge bed configurations, including adding a restaurant, fully stocked bar, and glass enclosed four season dining deck. Welcome to the Missouri River Ranch.
Amenities
The lodge offers all of the amenities you would expect to find at the Missouri River's premier destinations.  They have added 4 new spacious guest rooms which step out onto a 1800 square foot shared riverview deck; a new custom kitchen just off the Great Room where the chef prepares gourmet appetizers and meals coupled with a wine or drink of your choice; and a four-season dining deck with views of the Missouri River and surrounding mountains.
Each of the eight rooms is furnished with a private bath, custom amenities, and a protected veranda or large deck that overlooks the river and surrounding mountains. Bed configurations vary in order to best accommodate couples, fishing buddies, friends, and families.
By design the lodge was incorporated into the 85 year old barn that is the gathering point for guests. On the second floor, which was formerly a hay loft for the dairy ranch, is the Great Room. Relax after a day of fishing by the huge stone fireplace; chat with the chef about the evening's meal; or relax on the dining deck with your favorite beverage and appetizers. As guests who have been enjoying the lodge since 1997 know, this room was a bit rustic – post remodel the Great Room now offers heating and air-conditioning, as well as the four season glass enclosed dining deck and custom kitchen. For those that need to stay connected to the outside world, the Great Room offers both WiFi and television with over 300 channels to view while enjoying your favorite beverage at our copper topped bar.

 Please go in contact with us to plan your fishing trip in Montana. 
 FFTC Voucher available - 25 USD off for FFTC Members / fisherman / booking guiding services
Half Day
USD 400
4-5 hours Trip
Beverage & Snacks
Flies, Tippets, etc.
Capt. Jeff Johnson – Outfitter / Head Guide
Full Day
USD 550
8-9 hours Trip
Beverage & Snacks
Flies, Tippets, etc.

Land Of Giants
USD 650
8-9 hours Trip
Beverage & Snacks
Flies, Tippets, etc.
First Cast Outfitters
Capt. Jeff Johnson
PO Box 148
Cascade, MT 59421
Phone: 001 406-219-1232
Email: jeff@firstcastoutfitters.com
---