---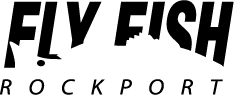 ---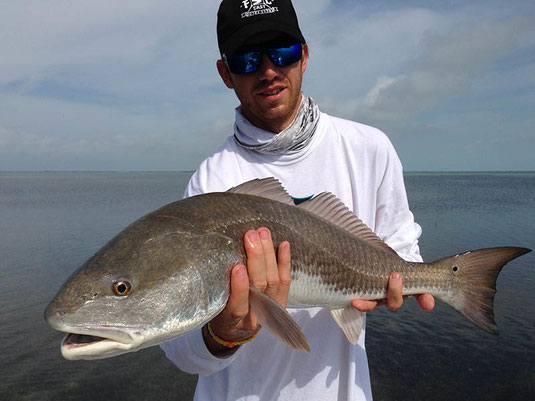 Welcome to the Texas Coastal Bend. Surrounded by the crystal clear waters of Copano and Aransas Bays, and nearby San Antonio and Matagora Bays, Rockport, TX is our home and base of operations. Rockport fly fishing is some of the best on the entire Texas Coast. With excellent year-round populations of Redfish, Speckled Trout and Black Drum. Or occasional opportunities for other species such as Jack Crevalle and Tarpon. There are fish to challenge any angler.
Rockport is centrally located along the Texas Coast, surrounded by the excellent fisheries of Port Aransas, Laguna Madre, and Port O'Connor. Nearby Corpus Christi provides easy airport access, as well as all the conveniences of a larger city. Rockport is a small beachfront community, but still offers plenty of amenities for our fly fishing guests. We look forward to showing you what our Rockport fly fishing trips is all about and look forward to your day on the water with us.
Captain Jeff Johnson
My love of fishing began at an early age. Growing up along the banks of the Yakima River, in Central Washington, it became pretty obvious that fishing was in my blood. In 1997, I moved to Bozeman, MT to attend college a little, and fly fish a lot. This is where I really began to hone my skills, eventually trout bumming for entire summers on the Missouri and other area rivers. After years of freshwater guiding and vacations to saltier climates, I decided to expand my business to the salt, and the Coastal Bend of Texas.

Fly Fish Rockport is located in the heart of some of the best fly fishing on the Gulf Coast. With world class fly fishing in every direction, Rockport, TX is poised perfectly to offer any variety of angling experiences. We specialize in fly fishing and light tackle sight fishing for trophy Redfish, Trout, Black Drum and other species. Fly Fish Rockport can ensure your Texas angling experience is top notch.
Fly Fish Rockport guides on many of the waters along the coastal bend, for a variety of species. We call Rockport, TX home. With plentiful redfish, speckled trout and other area species, on numerous expanses of flats, there is truly no place we would rather be.
While Fly Fish Rockport may call the Rockport area home, we also fish a number of other waters along the Coastal Bend. We regularly spend a considerable amount of time roaming the flats near Aransas Pass, Port O'Connor and the Upper Laguna Madre. Whether you prefer to sight fish for technical tailing redfish or work on newer fly fishing skills, Fly Fish Rockport can craft the perfect trip location for you.
In the event that your fishing trip requires more than one boat to service your angling group, Fly Fish Rockport hires only the best and most professional Captains/Guides. Our guide staff all boasts many years of fly fishing and guiding experience and are able to teach anglers of any ability new skills. Whether it be selecting the right rods and reels, flies or even casting instruction, our guides will have you taken care of.

Fishing Terrain
Rockport offers some of the best saltwater fly fishing on the entire Texas Coast. The city is surrounded by the crystal clear waters of Copano Bay, Redfish Bay, Aransas Bay and nearby San Antonio and Matagorda Bays. There are excellent year-round populations of Redfish, Speckled Trout and Black Drum, and occasional opportunities for other species such as Jack Crevalle and Tarpon. There are fish to challenge every angler.
In and around Rockport, fly fishing typically consists of sight fishing shallow water areas, or flats. These range from sand flats to mud flats, grass flats or flats composed of crushed oyster shells. Most of our sight fishing will be done in less than two feet of crystal clear water, making the fish very visible to the trained eye.
We often fish around grass banks. Our redfish and trout love to ambush their prey, and shallow grassy banks are the perfect place to do it. In this scenario, we will sight fish that are cruising these grassy banks, typically in very shallow water. They will often times swim deep into the grass in order to chase after baitfish.
Another popular location to sight fish, while fly fishing in Rockport, is along oyster beds. Baitfish love to congregate on very shallow oyster shell reefs. Typically, the redfish or trout will not be too far behind them. In this scenario, we commonly search along the edges of these oyster beds for fish awaiting the opportunity to ambush baitfish.
Fly Fishing Trips with Fly Fish Rockport
Spend a day with us chasing after tailing Reds, Speckled Trout, and a number of other fish here on the Rockport flats. Fly Fish Rockport offers numerous fly fishing trips to fit your needs, including Fish and Stay options as well as Full or Half Day trips. Here you can learn everything you need to know to begin planning your trip with us.
Weather by Season
Spring
Spring weather in Rockport typically begins in mid February. The winds are more commonly from the southeast, bringing with them warmer air. Daytime highs return to the mid 70s, with warmer overnights as well. We do tend to see a few rain showers beginning in mid March and early April. But these are typically warm weather patterns and very brief.
Summer
Our summer weather has typically set in by late May. Long days with plenty of sun are the norm here. Our prevailing winds are from the southeast and also bring warm air with them. Overnight temps are typically in the 70s, with highs during the days reaching the 90 degree range commonly. Being this close to the water, the humidity isn't too bad and we usually have a light breeze to keep it comfortable.
Fall
Our fall season in Rockport typically begins towards the end of September. The hotter days and nights of summer start subsiding and cooler evening temperatures make it very comfortable. Overnights remain in the 60-70 degree range, with daytime highs typically in the 80s, but with much less humidity then the dog days of summer.
Winter
Rockport winters typically begin around the end of December. By this time, the days are shorter and the overnight temperatures can dip into the upper 40s fairly consistently. Winds from the north become a little more common, but usually don't blow too hard. Our typical daytime highs are right around 70 degrees.

Fly Fish Rockport is proud to work with the following lodging providers. Guests fly fishing Rockport are sure to fine comfortable accommodations to meet your specific needs. All of our guests are offered preferred rates at any of our lodging partners. Let them know you are fly fishing Rockport with us. Or, let us know and we would be happy to help arrange the lodging for you.
Loding & Guiding Rates on request.
The Lighthouse Inn
A bayside gem on the beautiful Texas coast."

Complementary buffet breakfast

Waterfront scenery

All suites have private balcony or patio

Pool and lounge area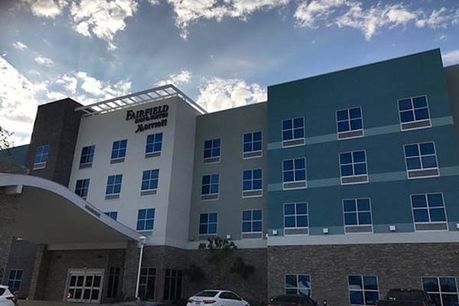 Fairfield Inn & Suites by Marriott
"Come experience the Coastal Charm of Rockport, Texas."

Complementary buffet breakfast

On site bar

24 hour fitness center

Pool and lounge area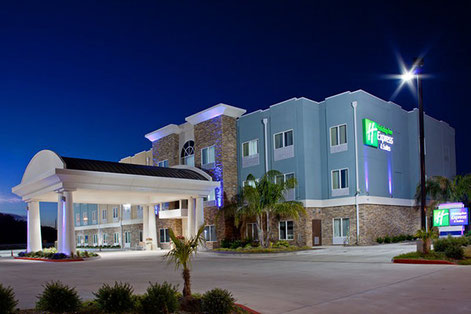 Holiday Inn Express & Suites
"Impressive views of Aransas Bay and easy access to local attractions."

Free Express Start breakfast bar

24 hour fitness center

Outdoor pool

Complimentary coffee and cookies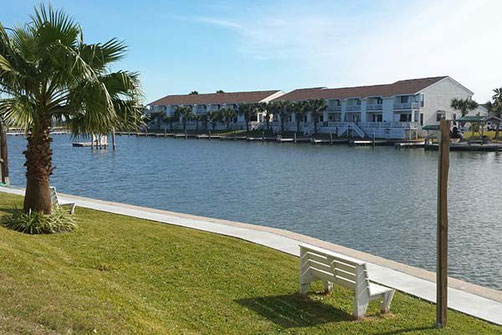 Restaurants
Coastal charm, with exceptional cuisine from all over the globe. Rockport boasts the finest cuisine on the entire Texas Coast, hands down. Here are a few of our favorite places for food and drink after we fly fish Rockport.
Best food in town! Very quaint spot, with exceptional food and drink. They also have our favorite happy hour. We recommend the Pedro to drink.
OUTDOOR ACTIVITIES
Birding
Over 75 different bird species can be spotted in the marshes and along the sandy beaches throughout the year. The whooping crane is an endangered species and the nearby Aransas National Wildlife Refuge is their winter home.
Rockport Beach
Visit Texas' first mile-long Blue Wave Beach with picnic cabanas, walking trail, restroom facilities, wildlife sanctuary, boat ramps, fitness trails, fishing piers, sand volleyball court, and a fantastic playground for children.
Aransas National Wildlife Refuge
Aransas National Wildlife Refuge is a 114,657 acre protected area situated on the southwest side of San Antonio Bay along the Gulf Coast. The rugged landscape is host or home to many amazing wildlife species, including whooping cranes, Kemp's Ridley sea turtles, reddish egrets, alligators and coyotes.
Lighthouse Lakes Paddling Trails
The Lighthouse Lakes Paddling Trail was the very first Texas paddling trail and is actually a series of four loops ranging in length from 1.25 miles to 6.8 miles. Paddlers can glide through mangroves and seagrass flats that provide outstanding bird watching and fishing for red drum, spotted seatrout and flounder in the maze of tidal channels and flats.


My goal is to make certain that your Rockport fly fishing experience is a great one. I will do everything I can to assist you in the planning of your next Texas fly fishing adventure.
When planning fly fishing trips, I am able to suggest numerous options for lodging, food, activities and more. If you would like assistance in your travel planning, I am able to help with that as well. I look forward to fly fishing Rockport with you.
Please feel free to contact me at any time, by phone or email. Please note that I am on the water most every day, and I will not be immediately available. But I will do the best I can to return all messages the same evening as they are received. 
 FFTC Voucher available - 25 USD off for FFTC Members / fisherman / booking guiding services
Half Day
USD 450
4-5 hours Trip
Beverage & Snacks
Cooler with Ice
Flies, Tippets, etc.
Capt. Jeff Johnson – Outfitter / Head Guide
U.S. Coast Guard Master Captain

IGFA Certified Captain

Licensed and Insured TDWB Guide
Full Day
USD 600
8-9 hours Trip
Beverage & Snacks
Cooler with Ice
Flies, Tippets, etc.

Stay & Fish Package starts from
(incl. Hotel Room) 
USD 750
8-9 hours Trip
Beverage & Snacks
Cooler with Ice
Flies, Tippets, etc.
Fly Fish Rockport
Captain Jeff Johnson
PO Box 315
Rockport, TX 78381
Phone 001 361.420.3262
Email: jeff@flyfishrockport.com
---